Notice
If I recommend a product or service, I've either purchased or used it myself. Only rarely will I recommend something I myself haven't used.
Some of these are affiliate products and services. This means I get a bit of commission if you invest in one of them using the supplied link.
Craft of Writing Products
Writing Fiction for Dummies
by Randy Ingermanson and Peter Economy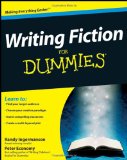 I've got all of Randy's stuff; this is a brand new book release which includes extra ideas he's learned.
This will give you a broad overview of fiction writing, from categories/genres to scene and character development. His "Snowflake" method for building your novel is excellent. You'll end up with an excellent grasp of the 3-Act plotting concept.
Check out his web site and get on his mailing list. While you're there, check out his Snowflake program. While his Fiction Writing 101 and 201 offers are excellent, start out with Writing Fiction for Dummies.
This should be high on your list of must-haves. Get it at my store now.
Plot & Structure
by James Scott Bell
Bell does a bang-up job with techniques and exercises using the 3-Act Structure. Check it out at my store.
Story Engineering, Story Structure Demystified, 101 Tips, and The Three Dimensions of Character
by Larry Brooks
Larry has an engineering approach to writing which fits right into our tech writer universe. While he has a ton of unique insights, everything he says fits right into the mainstream of fiction writing.
This is the one book you needto have in your library. It's the 20% of the data you might have on the Craft which will enable you to deliver over 80% of a professional product.Get it now!
This ebook enables you to work with the 4-Part Structure. It builds from the theory upwards to a usable methodology for creating the story structure you need to sell your novel. A must-have.See what Larry says about it.
101 Tips is worth every penny. This ebook will help you put a polish on your novel that will make it shine to your readers.See what Larry says.
Another home run. Larry gets you the nuts and bolts insight into how your characterization fits into the Six Core Competencies. Highly recommended.Get it now.
Philosophy
While not directly related to writing, these give a deep background to the human nature which will help your characterizations and plots.
Malcolm Gladwell
Malcolm can take a complex, seemingly random set of data or facts and make sense out of it so you understand it. These three books are quite inexpensive in my Amazon store under the Philosophy category:
Outliers - The Story of Success
The Tipping Point - How Little Things Can Make a Big Difference
Blink - The Power of Thinking Without Thinking
Get up on YouTube and search for Malcom Gladwell. Check out what spaghetti sauce can teach us. Google "malcolm gladwell genious" for a conference video called Genious 2012 to find out what kind of geniouses we want today.
Blogs and Web Sites
Immerse yourself in the Craft and the world of publishing. Get yourself a Gmail account and use the Google Reader.
A Newbie's Guide to Publishing - how to get your work out into the world.
StoryFix - Larry Brooks' blog. Get everything you can; he's got an engineering approach we tech guys appreciate.
Booksquare - Dissecting the publishing industry with love and skepticism.
Copyblogger - While her main emphasis is on writing copy (advertising), there's lots of stuff that fits directly into the Craft, such as Romance 101: How to Use Feminine Words That Sell
Dean Wesley Smith - he's a long-time, multi-genre well-published writer. Look at his Killing the Sacred Cows of Publishing series as well as his agent vs. no-agent ideas.
Friendly Writer - Laura Sherman writes both fiction and non-fiction. She has some worthwhile viewpoints.
gladwell.com - Malcolm Gladwell of the New Yorker. Has some tremendous ideas.
Grammar Girl - MP3 downloads on grammar. They're about 5 minutes each and are great to play during your commute.
How to Plan, Write and Develop a Book -- Good source on a variety of fiction writing topics.
Men with Pens - Various authors. Mainly about writing copy (which you'll need). One example is the Princess Bride Guide to Copywriting.
Niki Greenwood - Specializes in Romance and has good stuff for everyone.
Novelists Inc. - Various multiply-published authors  with topics on different genres and different aspects of the Craft.
Paperback Writer - Lynn Viehl has published 44 novels in 5 genres. Think there's something here? Try Why God Must Be a Writer.
The Passive Voice -- Gets into some fascinating legal stuff as well as "good dirt" on writing.
One Man Writes - Gordon McLean is a technical writer in the UK. Most of his posts are about TW, but there's lots of valuable information for the fiction writer.
Publishers Weekly - Obviously about the publishing industry. Each week there's a set of reviews on various genres. Poke around the menus to get the proper blog page. Read the reviews, especially the starred (recommended) ones. Gives a good idea what's selling and an insight into what the industry looks for in publishing.
Second Wind Publishing - Multiple-genre indie publishing. Gives a good perspective from the indie viewpoint.
Seth's Blog - Seth Godin is a very well-known marketer who's really on the ball.
Show Some Character - Plot to Punctuation. Jason Black is a freelance writer of fiction, non-fiction and academic/technical material. He's always got something interesting to share.
Smashwords.com - Online ebook publisher. Keep an eye out here for the latest and greatest.
Steven Pressfield Blog - Always a good post on Wednesday about writing.
Stormwolf.com - Looks to be a lot of published work. Keep an eye on it for some very interest articles about the writing and publishing industry.
Story Hack - Bryce Beattie writes action/adventure and "other stuff." Good set of writing resources.
storyfix.com - Larry Brooks is a best-selling author, a freelance writer, and a writing instructor. His blog has novel-writing tips and fundamentals. If you keep an eye on only a few blogs, this needs to be one.
TeleRead - News and views on ebooks, libraries, publishing, and related topics. Always lots of action here!
Terrible Minds - Chuck Wendig tells it like it is. Definitely Not Safe for Work; you're not safe from his pointed observations at home, either.
The Creative Penn - Joanna Penn is an author, blogger, and business consultant in Australia. Articles, books, etc., here along with some neat free stuff.
Wordplay: Helping Writers Become Authors. K.M. Weiland writes historical and speculative fiction from her home in the sandhills of western Nebraska. She does a lot of video blogging; always on an excellent subject. Nice free ebook, too.
Write It Sideways - Write fresh. Write bold. Suzannah gives us a fresh perspective about many areas of the Craft.
Write to Done - Writing articles twice a week. Leo Babauta brings us lots of relevant articles about the Craft and the industry.
Writer Unboxed - About the craft and business of genre writing. There's at least a dozen staff writers on a wide range of topics such as Hero vs. Anti-Hero.
WriteBetterFiction - Excellent reference and ideas. Busts up a lot of myths about us writers.
Writing Fiction - A wide-ranging discussion on writing and publishing novels and short fiction.
Summary